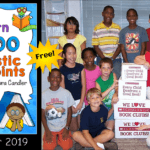 Did you know that Scholastic offers a fabulous back-to-school deal that makes it possible to get thousands of bonus points with your first order? The bigger your order, the more points you earn, and if you can place an order of $300 or more, you'll get 10,000 bonus points!
I know what you're thinking because that's exactly what I thought when I first heard about this deal! I couldn't imagine putting together an order that large, but I realized I had nothing to lose by trying. Even if I didn't get all 10,000 bonus points, I might end up with enough points to order new books for literature circles and reading workshop.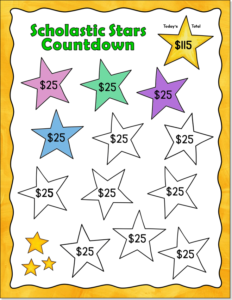 So I decided to put the challenge to my students, and I used it as our very first goal-setting lesson. I explained how Scholastic's offer worked and how we could use all of those bonus points. We set the class goal together, and of course they wanted to go for the $300 order to get 10,000 points! Next, we discussed ways to reach that goal, and we created an action plan. I sent a letter to parents explaining our goal, and I posted a chart on the board where we could display our progress each day.
Amazingly, we not only met that goal, but we surpassed it by about $30! My class was thrilled when FOUR big boxes of books showed up a week later! It was exciting to hand out the books, and I loved spending those bonus points on books throughout the year. I asked my students to help me choose them, and they loved having all those new books, too!
Scholastic Bonus Points Freebie
I was so excited about our success that I shared the idea with other teachers, and the system worked for them, too! The next year, I created a free packet of materials to share, complete with directions, a sample letter to parents, a Scholastic Stars Countdown poster for tracking progress, and book coupons to use as incentives.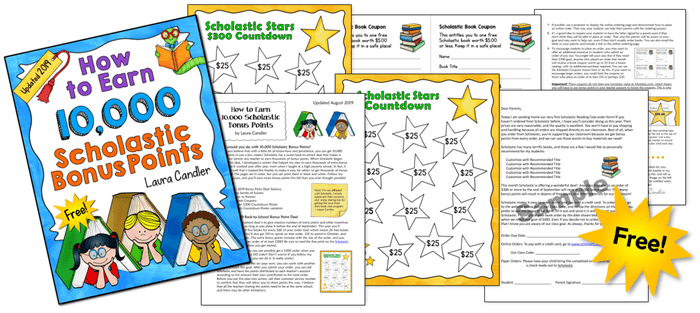 If you'd like to try it, you can download How to Earn 10,000 Scholastic Bonus Points from my TpT store. I just finished updating for Scholastic's 2019 offer, so if you used this freebie in the past, be sure to download the most recent version. If you'd like to read the full details of Scholastic's offer, take a look at the 2019 Back to School Arrow Book Club teacher pages.
How to Get Dozens of Free Resources for Your Classroom
I'm so excited about Scholastic's back-to-school offer that I recorded a podcast episode with loads of tips and ideas for using this system to get a HUGE book order. Click the play button to listen now, or listen to this episode on Apple Podcasts or Google Play.
Even if you don't think you can reach a goal of $300, I urge you to give it a try. You might be surprised at the results, especially if you treat this as a goal-setting lesson. What do you have to lose? Any size order will generate loads of bonus points that you can spend on classroom resources, and if you get 10,000 bonus points you'll feel like you've hit the jackpot!